Crypto-revelation
Why there is no turning back from blockchain and digital currencies
Launched "Crypto-Revelation", the first book by Massimo and Andrea Tortorella, at Link Campus University (Rome)
On June 26 was launched "Crypto-Revelation", the first book written by Massimo and Andrea Tortorella: an essay today very necessary to explain why there is no turning back from Blockchain and digital currencies.
In the prestigious landscape of the Link Campus University, working alongside us to organize the first European master on the theme Blockchain, we had the opportunity to confront the protagonists of the Italian and international scenery: the economist Edward Luttwak, the President of the Link Campus UniversityVincenzo Scotti, the journalist of the newspaper "Corriere della Sera" Massimo Gaggi and Antonio Maria Rinaldi, Editor of "Scenari Economici" website.
An unique opportunity to talk about the ambitious challenges we have for the future.
Despite the growing fame, Blockchain and cryptocurrencies are known and exploited by less than 0.4% of the global population. This book, written clearly and comprehensible for all people, intends to unveil the "secrets" of a technology destined to change the world, from its origins to the prospects to make efficient both public and private institutions. Regulated funds, copyright, electronic voting, administrative transparency: Andrea and Massimo Tortorella introduce us to possible revolutions in international economic, financial and bureaucratic processes. After the barter, the currencies, the gold, the dollar and the central banks standards, an additional convention has appeared at the dawn of the new millennium. And there is no going back.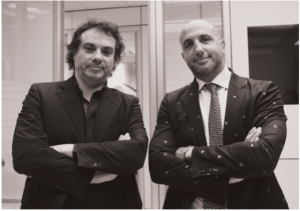 Andrea Tortorella, born in 1965 and graduated in Economics, is CEO of Consulcesi Tech, a hi-tech company specialized in avant-garde Blockchain and cryptocurrency solutions. He is one of the FinTech leading international experts. Thanks to his expertise, many Eastern Europe and Balkan countries have chosen him as consultant for the development of strategies to regulate the tech sector.
Massimo Tortorella, born in 1970 and graduated in Law, journalist, is the President and founder of Consulcesi. Visionary and brave entrepreneur, he is among the pioneers of Blockchain technology in FinTech. His creation has become an international multy-company, recognized as a giant in the legal field. He introduced, in the 90s, web services for the medical profession, launching the sector's largest e-learning platform.
"Crypto-Revelation" is the first essay for both.
«This book fascinated me because it tells a story in which I recognize myself, a story of a technology that can bring more democracy in the world, an unstoppable power that will continue growing because it belongs to the future».
Davide Casaleggio
«These pages explain clearly how the modular block chain shows a future where individual freedom will also be measured – and above all – on the possession and control of personal data. Read it to understand».
Alessandro Galimberti, Il Sole24ore